A feature as big as making everything animate and move properly is bound to have a few bugs in it.  There were a couple issues where moving map objects could cause a crash.  Those have been fixed, plus a few more minor problems.
Maps that are almost as big as the display window will no longer overlap the scroll bars.
The "blurry" look of the tile palette has been cleaned up.
But here's the real interesting one.  Just when I thought I knew all of RPG Maker's graphical quirks, it hits me with something like this: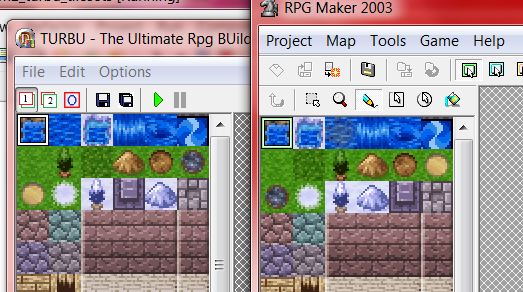 Take a look at the top three rows.  One pair of water tiles and three pairs of border tiles are switched around.  Turns out that the way RPG Maker stores its tiles in the tile palette doesn't quite match up with the way it stores the tile data in the database.  I wasn't aware of this, which led to some issues with moving map objects getting stuck on terrain they should have been able to cross.  I've fixed the tile passability problem, since that was a lot easier than rearranging the tile order to match RPG Maker's, which would have probably introduced new bugs.